South Korea, an East Asian nation on the southern half of the Korean Peninsula, shares one of the world's most heavily militarized borders with North Korea. It's equally known for its green, hilly countryside dotted with cherry trees and centuries-old Buddhist temples, plus its coastal fishing villages, sub-tropical islands and high-tech cities such as Seoul, the capital.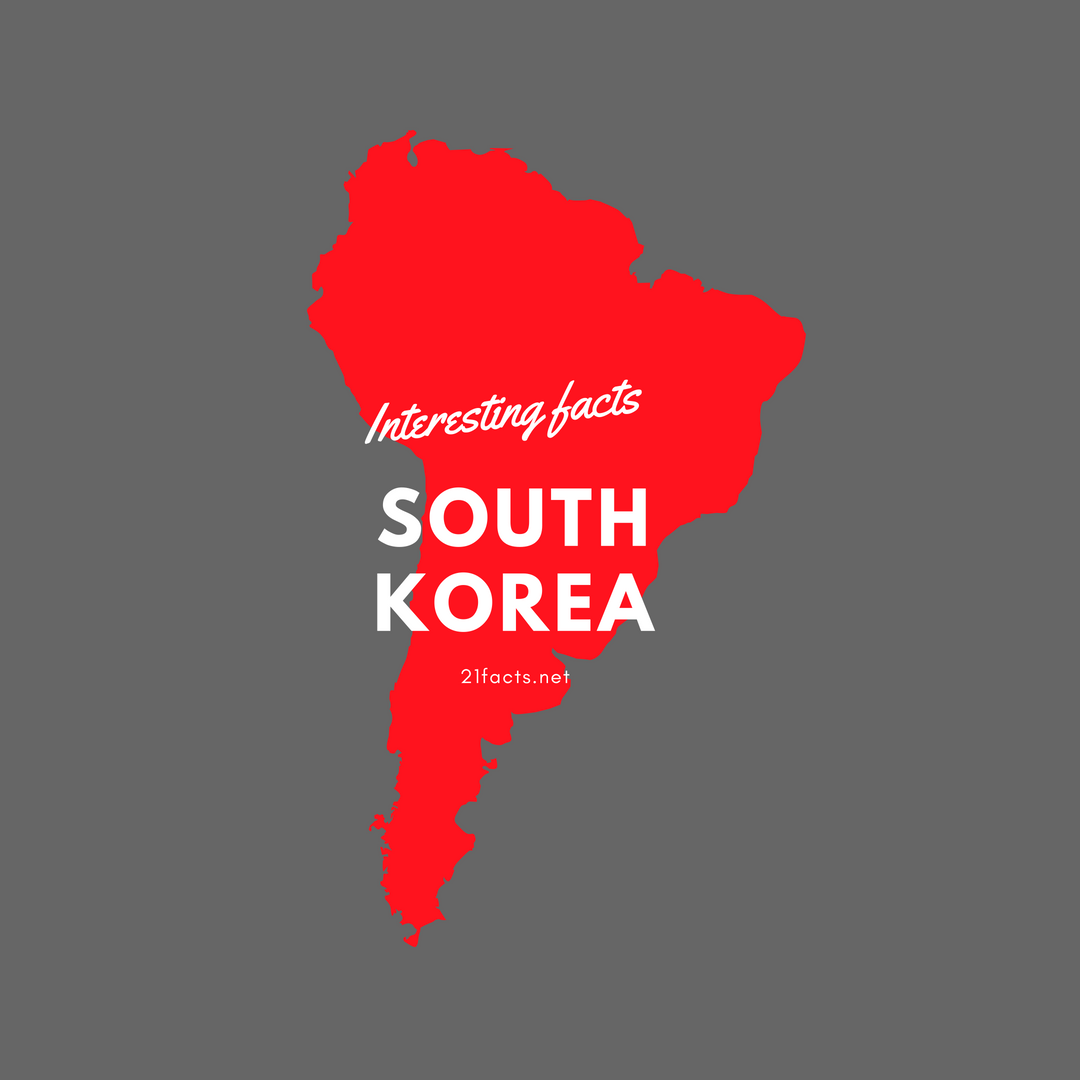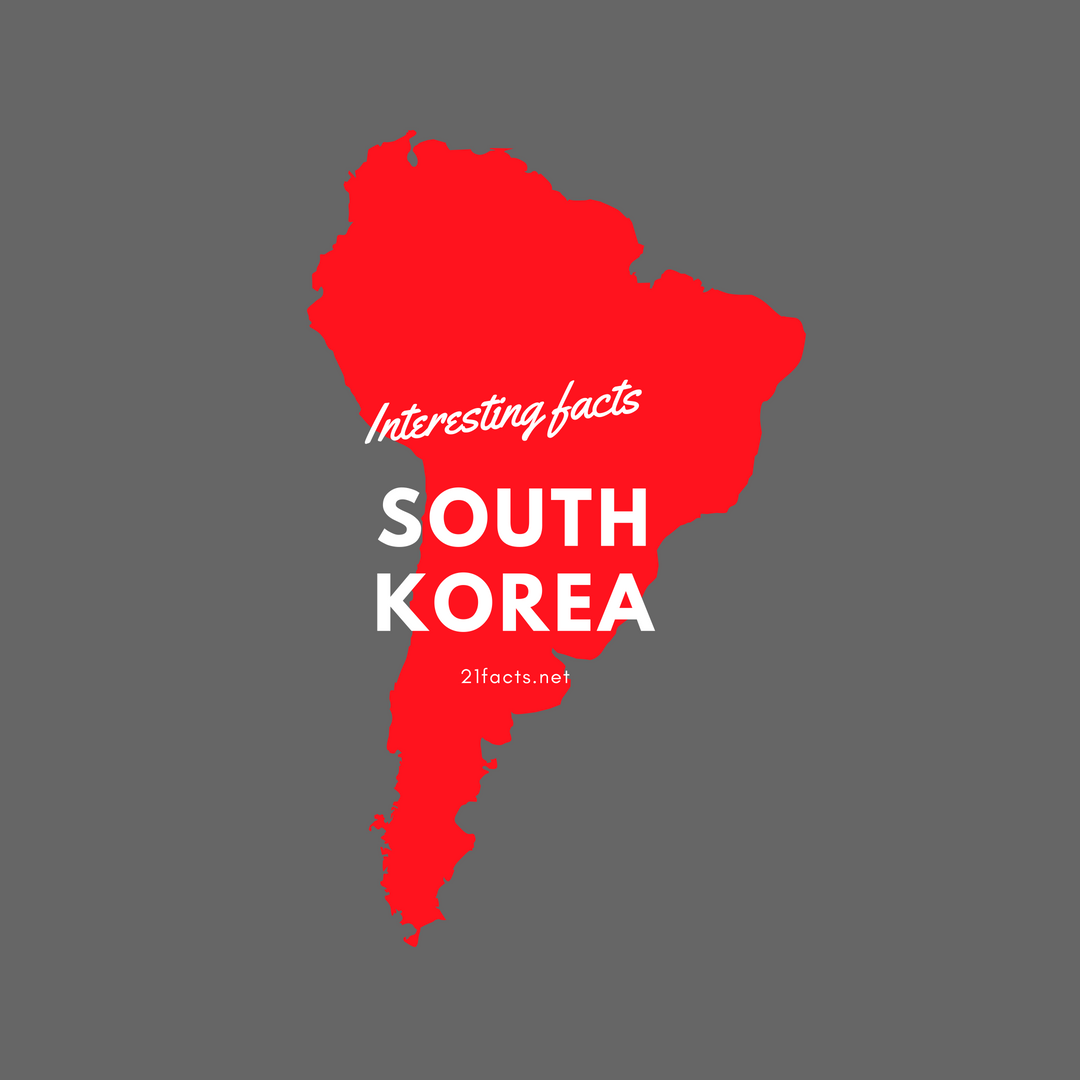 The name "Korea" comes from Goryeo, which was the name given to the dynasty established by General Wang Geon in AD 918. Goryeo means "high and clear." Some poetic interpretations of the name Korea are "Land of High Mountains and Sparkling Streams" and "Land of the Morning Calm."
Most restaurants, including McDonald's, will deliver food straight to homes in South Korea.
South Koreans are obsessed with feces, and everything from turd-shaped cookies, phone charms, and an entire museum devoted to poop can be found in the country. Toilets across the country also feature pleasant flushing sounds, background music, and colored water.
In Korea, babies are considered one year old at birth.
Only 3.2% of South Koreans are overweight, which ties the country of Japan for the lowest percentage in the world.
South Korean men love makeup, spending close to US$900 million a year, or a quarter of the world's men's cosmetics. Up to 20% of the male Korean population is reported to use makeup regularly.
South Korea is home to Haesindang Park, which is full of penis statues, and also to a penis-themed restaurant at Deulmusae, which is hard to miss because of the statues of jaji (penises) lining the path to the restaurant.
In South Korea, it is perfectly legal to drink alcohol in public. People can carry open containers of their favorite alcoholic beverage and even take a drink or two.
When a Korean's name is written in red ink, this indicates that that person is about to die or is already dead.
South Korea is famous for its practice of "crime re-creation." Citizens suspected of crimes such as rape or murder are led by the police in handcuffs to the scene of the crime and ordered to publically reenact the crime. To make the reenactment even more humiliating, the media is also invited to take pictures and publish details about the crime.
South Koreans believe that leaving an electric fan on overnight will kill the person sleeping directly below it.
The microchips for Apple's iPhones are made by the South Korean company Samsung.
On Jeju, South Korea's largest island, giant stone statues known as dol hareubang (old grandfather) can be found along the beaches. Newlywed women believe that if they touch the statues' long, broad, phallic-looking noses, they will be blessed with fertility.
More than 2 billion people have viewed the "Gangnam Style" music video of Korean K-pop artist Psy since 2011. It topped the charts in 30 countries around the world. World leaders including U.S. President Barack Obama and British Prime Minister David Cameron have mimicked the dance. The song refers to the Gangnam District of Seoul.
South Korea is the largest market for plastic surgery per capita in the world. It is estimated between 1/5 and 1/3 of the women in Seoul have gone under the knife for at least one cosmetic procedure.
Group blind dating in South Korea is called "Meeting" or "So-getting" and is a very popular way for young university students to meet over dinner and drinks.
South Koreans love Honey Butter Chips, which are potato chips flavored with honey and butter from France. Because shops run out of them so fast, raffles are held for a chance to buy a bag, and the chips can sell for up to US$100 a bag on eBay. McDonald's even sold honey butter-flavored French fries in South Korea for a while.
Interesting Korea Fact
Seoul is often considered to be one giant shopping mall
South Koreans love shopping, and the country has some of the biggest shopping malls in the world. The stores are open until 4:00 in the morning, while most restaurants, bars, and cafes are open only until 11:00 p.m.
South Korea's Yoido Full Gospel Church has the biggest congregation in the world. As of February 13, 2014, the Seoul-based Pentecostal Christian church had close to 1 million members. On any given Sunday, 200,000 faithful will attend 1 of 7 services and an additional 200,000 to 300,000 will watch on TV and in satellite churches.
Baseball in South Korea is called yagu, and teams are named after corporations like Samsung and KIA. The Korean Baseball Organization was established in 1981 as a way for people to let off steam by Dictator General Chun Doo Hwan, who tried to improve his image by throwing out the first pitch at every game.
Taxis in South Korea are color coded according to the level of service offered. A gray or white taxi is a basic car with a qualified but potentially inexperienced driver, while the black cabs are luxury cars with experienced drivers.
All South Korean roofs are curved at the ends giving the appearance of a smile.[
Dog is a dish that is actually served in Korean restaurants and in street markets. Dog meat has been eaten in South Korea for centuries, but has become quite controversial among other Asian nations. Bosintang is a traditional Korean soup made with dog meat, which means "invigorating soup." A special breed of dog, the nureongi, is bred for its meat. Pet dogs are usually not eaten.