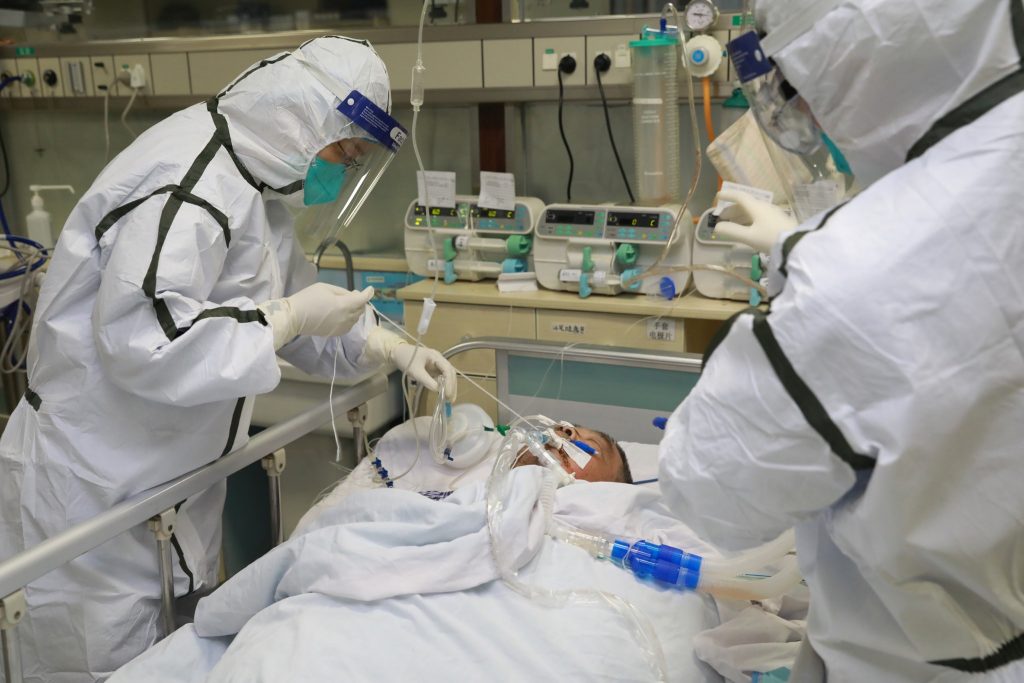 Coronaviruses are a group of viruses that cause diseases in mammals and birds. In humans, Coronaviruses cause colds with major symptoms, e.g. fever, throat swollen adenoids, in humans primarily in the winter and early spring seasons.
1. The name "coronavirus" is derived from the Latin corona, meaning crown or halo, which arranged to the characteristic appearance of the virus particles (virions): they have a fringe reminiscent of a royal crown or of the solar corona.
2. A new coronavirus, designated 2019-nCoV, was first identified in Wuhan, Hubei province, China
After people developed pneumonia without a clear cause and for which existing vaccines or treatments were not effective. It is believed to have originated from wild animals, passing to humans due to the wildlife trade and wet markets. The virus spread to other Chinese provinces in early and mid-January 2020, helped by the Chinese new year migration.
3. As of January 30, 2020, approximately 7,710 cases have been confirmed including in every province of China
The first confirmed death from the coronavirus infection occurred. In Wuhan, during December 2019, an inaugural cluster of cases displaying the symptoms of a "pneumonia of unknown cause" was linked to Huanan Seafood Wholesale Market, which had a thousand stalls selling fish, chickens, pheasants, bats, marmots, venomous snakes, spotted deer and the organs of rabbits and other wild animals. The immediate hypothesis was that this was a novel coronavirus from an animal source (a zoonosis).
4. China said on January 9 that 132 people had died from the virus
All of them are believed to have originated in the central city of Wuhan and is spreading across the country, with a case fatality rate of 2.2%.
5. 2019-nCoV Wuhan coronavirus outbreak data by countries, affecting 20 countries and territories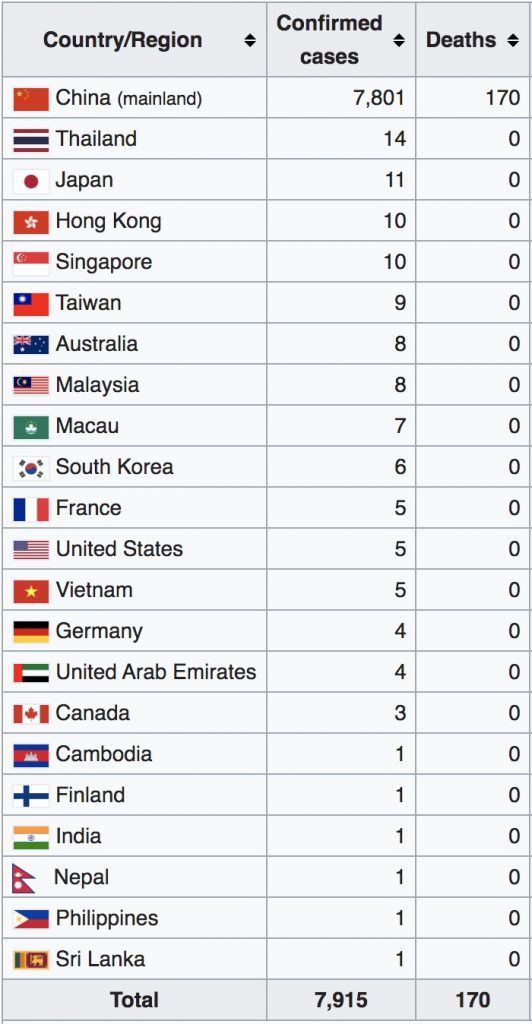 6. The first person diagnosed with the Wuhan coronavirus in the United States treated largely by a robot
The robot, equipped with a stethoscope, is helping doctors take the man's vitals and communicate with him through a large screen. The man, who is in his 30s, was diagnosed with the virus. He initially went to an urgent care clinic on January 19 and told the staff that he was concerned about possibly having symptoms of the novel coronavirus because he recently traveled to Wuhan, China.
7. The mortality rate of 2019-nCoV has so far been less than 5%, compared to 9.5% with SARS in 2003/2004, and with 34.5% with MERS in 2012
8. On 24 January, Wuhan planned to have the special hospital built within six days of the announcement and it will be ready to use on 3 February
A specialty hospital named Huoshenshan Hospital has been under construction as a countermeasure against the outbreak and to better quarantine the patients. Wuhan City government had demanded that a state-owned enterprise construct such a hospital "at the fastest speed". The specialty hospital will have 1,000 beds and it will take up 25,000 square metres. There were 1,500 workers and nearly 300 units of construction machinery on the site at peak, and another backup team of 2,000 workers had already gathered.
9. 38 more deaths in China from the coronavirus were announced on 30 January, bringing the toll to 170.
Most of those recent deaths, 37, occurred in Hubei Province, the center of the outbreak. One person died in the southwestern province of Sichuan, China. Tibet reported its first confirmed case. This means that all of China's provinces and territories have now been touched by the outbreak.
10. February 6, Li Wenliang, the Chinese doctor who was one of the first to warn about the coronavirus in Wuhan, has died, according to the hospital where he worked.
Death of Dr Li, the Chinese doctor who warned others to protect themselves, before being summoned and investigated by Chinese authorities for "making false comments" and "spreading rumors" denying the official story that only those who came into contact with infected animals could catch the virus.
11. On 7 Feb, The novel coronavirus (2019-nCoV) is affecting 28 countries and territories around the world.
12. February 7, there are 31,535 cases have been confirmed of which 4,826 (15%) in critical condition. 638 people had died.
Updating…