Loved by his fans for his suit, and his choice of words, known for his popular act in Sherlock Holmes, Charlie: the life and art of Charles Chaplin and Iron Man in Avengers. The man that has collected almost all accolades in the film industry, it is an honour to chip you in on some facts about him. The person is Robert John Downey Jr.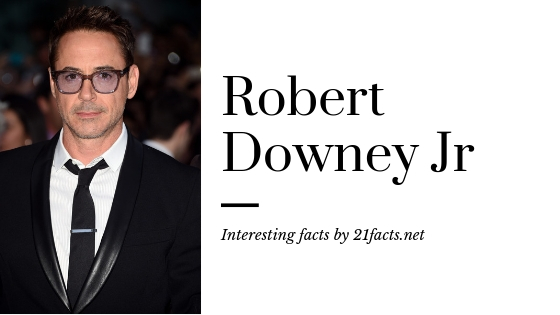 Fact 1: Who are the parents of Robert Downey Jr?
Robert Downey Jr is the son of Director Robert John Downey Sr and actress Elsie Downey. So we can say Robert Downey Jr has acting in him.
Fact 2: When did he start acting?
He started filming at the age of 5 in 1970. He acted as a puppy in a movie, Pound, directed by his father.
Fact3: What is the net worth of Robert Downey Jr?
Robert John Downey Jr worth $300 million. And as of 2018, he is the third highest-grossing US domestic box-office star of all time with worldwide grosses surpassing $11.6 billion.
Fact 4: What other things does Robert Downey Jr do?
Downey is also a singer. He has sung several soundtracks for his movies. He appeared in a music video of I want love by john Elton.
Fact 5: Robert Downey founded an American production company named Team Downey. David Gambino is the president of production.
Fact 6: Who is Robert Downey Jr married to?
Robert Downey once dated Sarah Jessica Parker at the age of 18. Before he got married to Deborah Falconer in 1992 who gave birth to a son which he divorced in 2004. Then, he is currently married with 2 kids from his present wife Susan Levin.
Fact 7: Is Robert Downey Jr a drug addict?
Downey Jr was a drug addict. His father, a drug addict allowed him to use marijuana when he was six. His father regretted that act.
Fact 8: Does Robert has a sibling?
Downey Jr has a sister, Allyson Downey. She is an actress. ( Acting runs in the family).
Fact 8: Robert Downey Jr and Kiefer Sutherland are best friends. Robert Downey Jr slept with Kiefer in the same room for 3 years as roommate.
Fact 9: Robert Downey has a good sense of humor.
Fact 9: How man awards has Robert Downey Jr collected?
Robert Downey Jr has received over 70 nominations both in movies and TV shows and he won 17 awards including BAFTA awards, Golden Globe Awards, Screen Actors Guild Awards and Teen Choice Awards.
Fact 10: He once bought and lived in Charlie Chaplin's old house. He stayed their with Sarah Parker.
Fact 11: Robert Downey Jr has featured in over 100 movies and only 5 TV series including the famous Saturday Night Live.
Fact 12: What is Robert Downey favorite animal?
If you are a fan of Robert, then love cat because he loves cat.
Fact 13: Robert Downey Jr is a lover of cars. He drives 1965 Chevrolet Corvette, Audi E Tron GT Concept and so much more.
Fact 14: Is Robert Downey a Trump fan?
In 2016, he appeared in an anti-Trump commercial with other celebrities. He serves on the board of Anti-Recidivism Coalition.
Fact 15: Where did Robert and Susan get married?
Susan and Robert Downey got married in the Hamptons, one of Robert's most favorite summer spots. They did so in Jewish ceremony.
Fact 16: What is the favorite color of Iron Man actor?
Robert Downey favourite color is teal.
Fact 17: What is Robert Downey zodiac sign?
Robert Downey Jr zodiac sign is Aries.
Fact 18: What people call Robert Downey Jr?
His best friends call him Bob and his fans call him Iron Man or RDJ.
Fact 19: How many children does Robert Downey have?
Robert has three children: Indio Falconer Downey, Exton Elias Downey and Avri Roel Downey.
Fact 20:Robert is a student of Wing Chun Kung Fu which he learnt from Eric Oram.
Fact 21: A book was written for him by a popular journalist, Ben Falk. The book was titled Robert Downey Jr: The Fall and Rise of the Comeback Kid.
References

https://en.wikipedia.org/wiki/Robert_Downey_Jr.
Robert Downey Jr Favorite Color Food Things Sports Hobbies Biography